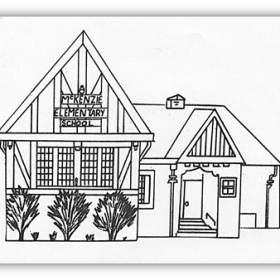 The history of McKenzie School might be divided into two parts, the division being in 1934, when fire destroyed much of the original building. The original school had a very modest beginning – a one room wooden unit built in 1912. Standing on one acre of ground, the total value of land, school and equipment was listed at $2,500.
In 1913-1914, the population so increased that two rooms were added, making an imposing three room structure. Soon, even this addition proved inadequate, and by 1918 two more rooms were added, bringing the school to a total of five classrooms. In 1926, Mr. P. C. Routley, the school's principal, managed to get electricity installed in the school. He took a petition around the then sparsely housed section west of Seven Oaks, requesting the names of those who would be willing to start using electricity. Prior to this time, coal oil lamps were brought into the classrooms during the dark winter days.
The current "old wing" of the school was constructed on the foundation of the old structure, which was re-built after the fire in 1934. The "old gym" was completed in 1959 and in 1963 the North Wing (office wing) was added. In 1972 the Library Wing was built as an "open area", but was soon renovated to become the four classrooms which currently are located on either side of the library.
In 1977, the new gym was constructed after a section of the 1934 school building was demolished, leaving 4 classrooms from that building which are still in use today. In June 2007, the new gym was renamed the "Demers Gym" in memory of John Demers, a long-time parent and educational assistant who passed away in September 2006.
Since 1977, McKenzie has had minor alterations and renovations, with earthquake reinforcement taking place in 2011 and a new driveway-drop-off area completed in 2012. In September 2004, McKenzie reconfigured to a Kindergarten to Grade 5 school.
McKenzie School celebrated its Centennial year in 2012 with two days of events which included past and present students and staff. It is interesting to note that play areas and remnants of boys and girls washrooms can still be seen in the basement.